Knowles, Brand SYFERSFCMV range of threaded panel mount EMI / Varistor Filters
The Syfer range of varistor filters provides both transient voltage protection and EMI filtering in one device. The heart of this unique device is a multilayer varistor discoidal, which provides a dual function.

The use of metal oxide based ceramic (MOV) provides the voltage protection, with bi-directional clamping, while the inherent capacitance, due to the multilayer construction, ensures effective lowpass EMI filtering up to at least 1GHz.
Produktspezifikationen
lowpass EMI filtering up to at least 1GHz
metal oxide based ceramic (MOV)
threaded
Varistor Filter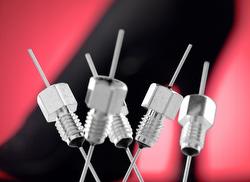 Mehr von Knowles, Brand SYFER