NIC ComponentsWOW! NSPE-A series, 10,000 hour lifetime rating.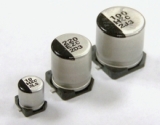 Hybrid capacitors incorporate the best elements of both solid polymer and liquid electrolyte construction to provide ultralow ESR, high ripple current ratings, with low leakage current and superior stability over temperature.
NSPE‐A series is ideal for use as alternates to solid polymer, or MLCCs type capacitors in DC‐DC, POL, VRM and power management applications requiring high voltage and stability.

The NSPE‐A series features:
extended lifetime rating of 10,000 hours at +105°C for long lifetime applications.
Rated for use over ‐55°C to +105°C, in capacitance values from 10uF to 330uF, and voltage ratings from 25VDC to 80VDC.
The liquid electrolyte, used within NSPE‐A series, has the advantages of improved surge transient absorption, self healing and open mode wear‐out, as compared to solid construction tantalum and solid polymer type electrolytic capacitors.

NSPE‐A series are RoHS and REACH compliant and compatible with Pb‐free reflow soldering up to +260°C. Typical lead times from 8 to 10 weeks.

For samples please call the wts // components sales.
Veröffentlicht am 20.02.2014