wts // electronic - News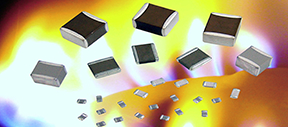 Knowles (Brands NOVACAP, SYFER)
Knowles Precision Devices hat die Erweiterung verschiedener MLCC – Linien vorgestellt, einschließlich der neuen 250-HiT-Reihe für Hochtemperatur – Automobilanwendungen. Die Anwendungen der HiT-Serie sind besonders für Anwendungen im Hochspannungs-EV Bereich geeignet. mehr ...
Veröffentlicht am 26.11.2018
---

Knowles (Brands NOVACAP, SYFER)
Four years ago, Dielectric Laboratories (DLI), Novacap, Syfer Technology and Voltronics came together into a single organization referred to as Knowles Capacitors - a division of the newly formed Knowles Corporation. With the way these brands interact to make innovative contributions to the passives market, the decision has been made to rename this division as Knowles Precision Devices. mehr ...
Veröffentlicht am 27.03.2018
---
wts // electronic – Linecard